JOE FOLKMAN INTERVIEW FOR "L'IMPRESA"
SPEED, CRITICAL FACTOR OF SUCCESS
LEADERSHIP. Interview with Joseph Folkman, co-author of Speed
From an analysis of 700,000 entries among the 52,000 "fast" leaders evaluations, eight common behaviors emerge: they lead to more speed of execution, not to the detriment of quality and without a frantic activity.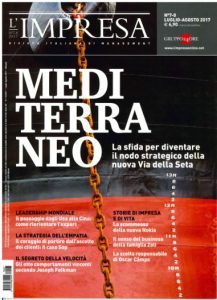 Speed ​​counts. We grew up in the cult of articulated, technical, bureaucratic precision, which takes time. We have lost sight of the speed brought with safety that can be obtained by keeping together the qualities as well. Instead, this speed is what we need, because it leads to better leadership in the company, which blends with the tension of humanity to go faster and faster. After all, speed has become an undeniable factor in the last twenty years. This is the idea of ​​a pair of US consultants John H. Zenger and Joseph Folkman in the book not yet translated into Italian, Speed: How Leaders Accelerate Successful Execution.
The underlying idea is that the main separator between good and bad leader in the company is the ability to be quick to see problems, so anticipate them, and make the necessary changes. In short, making decisions quickly without diluting its performance of excellence. "L'Impresa" has gone to talk with Joseph Folkman, a notorious person not only in the United States because, during the years, he has founded two consulting firms for leadership of a certain success: Novations and then Zenger-Folkman. Folkman's competence derives from his approach to behavioral statistics: in thirty years of career, he has built a database of half a million questionnaires with a "360 degree rating" for more than 50,000 business leaders around the globe (in Italy Zenger and Folkman has a partnership with Iocap) and based on the data collected over time. This collection of data, over the time, has articulated fortunate leadership motives. The latter, based on the idea of ​​speed, seems to be almost a provocation, if it were not, as with other books, it does not come out of the room of the authors but from the bottom of the thousands of questionnaires collected over the years.
Is that so Mr. Folkman?
Yes. Over the years, we've done a lot of work with business leaders: thanks to the 360 ​​degree rating we collected a lot of information. When you have so many data available, asking yourself questions becomes very interesting.
Which question did you put in this case?
A very simple one: what is the biggest separator between the best and worst leaders? Which feature makes a better leader than the other?
And then, how did you find the answer?
We took the first twenty recurring items in our leadership questionnaires and we made an analysis to break them down and understand statistically how the three elements are most often together.
What was the result?
They are the following: good leaders are fast, they make decisions quickly and they make things happen. We proposed it in an organization for the first time five years ago and the approach was immediately interesting to them. Then we brought it to other organizations, and we saw the issue of speed as dominant ever more often. We said: this topic is becoming more and more important, we must deepen.
What have you done?
  We asked ourselves more questions. For example: what impact have the speed and the ability to anticipate problems and solving them quickly, on leadership? What impact does it have on leaders?
What did you find?
Reading leadership in this key, we have seen that those who are more focused on these aspects are twice effective than others.
It is new?
Partly yes. If we think about the world even just 25 years ago, all that has been done during our lives, our careers, has been an increase in our speed. Telephones, faxes, e-mail, and phones: everything makes us faster. As the historian Stephen Kern wrote in his seminal work about time and space, humans have never opted for slowness.
Well, many criticize the speed, but…
From time to time, of course. When the trains arrived, there were those who opposed the "unnatural and damaging speed" of iron monsters. The same thing happened with the arrival of cars.
But the speed applied to business leads to hasty, confusing decisions, or not?
Beware; there is a deep difference between "fast leadership" and "frantic activity". A lot of people I talk about speed think they are already too fast, but then looking better together we find that they are prisoners instead of a chaotic activity, and chaotic activity does not serve anyone.
What is the difference?
If you want things to go ahead efficiently you do not have to be busy with a chaotic activity. This is our starting point. We wondered what the idea of ​​speed was for our interviewees. It's a tougher theme than you seem. Do you think that even our publisher, when we proposed Speed, replied: do you want to make a book about how to do things fast or how to do the right thing?
And what did you answer?
Usually, when one want to, calmness slows down. But we have done a study to see what the leaders are doing fast but not doing good things and what they do instead when they do good things but they are slow. The likelihood of leaders of either side to be a great leaders is respectively 2% and 3%. Instead, if you do things fast and well, the odds are 95%. We have responded to our publisher with the definition of Speed ​​that we have derived from this analysis.
Which is it?
Speed ​​is a fast and fair execution, well done. The consequences are very interesting, according to us.
What are they?
We asked ourselves: how do you get faster? Intuitively, the answer is that you have to increase your speed. You could say: talk faster, delete the chats, run from all sides, etc. but accepting such a response would be the wrong approach. Then we tried to understand what the leaders are doing. We have looked at the accuracy of 700 thousand voices of 52,000 "fast" leaders. We've been trying to figure out what the things they have in common, what behaviors lead to more speeds without a frenetic outbreak.
What did you find? What are the behaviors?
There are eight of them. The first is very important. It needs to develop a strategic perspective for the organization. Because if people are confused about their path, their purpose, then they change nothing and the group goes in different directions and this slows down all or creates frenetic and useless activity. When it's all clear about where you go, this helps you get faster. The second is the courage to take the tough decisions right away. Because they are usually slowing down and creating harm to everyone.
For example, one of the most difficult decisions is dismissal: if you have to do it, do it right away. You will be pleased with yourself and your fired person.
This can be a difficult idea to accept, at least around here. The third point?
Communicating decisively: people are often confused about what to do, leaders think they are good communicators but they do not. Even the act of keeping people informed is critical. A leader must know how to sell himself and this leads to the fourth point: the focus on the outside. People often focus on what's going on inside the organization, internal politics, power games, dynamics, and lose sight of what's going on, what competitors do, what changes are going on in the market and all the rest. We see our speed just looking out.
We usually associate speed with the inability to be competent. Do you agree?
It's the fifth point. When one can't do something, it slows down. It's natural. Also because when you become really good at doing something you go very fast. The key is that the leader does not have to be competent on all technical aspects, but must be able to rely on people who have these skills and understand the logic to delegate it well.
Are we at the sixth point right?
Exact. This is very interesting. We need people who take initiatives that can start things out. There is a huge number of projects that lie still, never started. Who are the people who start things out? Mostly women, because they have more initiative than men do. This also happens at home: women do things and they do not waste time.
Then?
The seventh point is more counterintuitive: it is necessary to raise the stem, to have more ambitious goals. Automatically you go faster. I tell a short story to understand. Years ago, a small publisher told me that at the end of the year meeting he had asked his company what goals he would have wanted for the following year. An employee says: post a best seller. That publishing house published catalog books, he had never had a best seller. The publisher asks if they all agree and lets them talk for half an hour between each other. Then, they decide that the best sellers for the next year must be two. Ok, the seed is planted: the publisher asks them to reflect for a week and then submit the projects. It happens, and after one year they have their two best sellers. They had lifted their stern and had arrived, going faster. The bosses love putting impossible goals that people hate, but they are wrong: the magic is to bring people to accept the challenge, the rest literally comes from themselves.
The last point?
Innovation. We always find new ways faster and easier to do things, but will they really be more efficient ways for us? Will they give us more speed? The hard thing is not to find innovation because we have a lot to do around us, but to understand what we need and learn to use it well. In this way, there is always something that helps us to do things faster and always with high quality.
Practically it has revealed to me all the secrets of your book.
No, this is just the introduction, the presupposition. We teach managers how to do it. We have the online self-evaluation test, which is located in Italy by our Iocap partners. The purpose is to help people of the company to figure out whether they prefer quality or a faster pace and how fast they are going.
Are there cultural differences? Have you seen the speed change in different parts of the world?
Yes sure. Different countries, different speeds. Milan is average, Rome is slower, Sicily also. The fastest countries are Singapore and China. The US have a correct speed, above average but not too much, while Latin America and Africa are the slowest parts of the world. I've made a correlation and usually a country's GDP is tied to its speed. Then, young people tend to be faster than old ones, although they have less experience. After all, for companies speed is like the motion of people: the longer you do, the longer you live.
Did you notice if there is a correlation between speed and attention to the result?
If this pair means the contrast between quality and quantity, yes, we have seen that in some people very close to the concept of quality there is a strong slowdown but, if you look better, it depends not so much on the skills, but on the fear of making mistakes. Today, we are more and more oriented to quality and for this reason, as more and more overlapping maturities need to go fast and then go wrong. But you do not have to be scared: you just have to stop and corrects the mistake, then restart.
In your opinion, what do you think about speed predisposition?
I think it's related to initial training. The guidelines are usually two: "do not make mistakes" or "end and pass on to the next". Beware; fast does not mean sloppy. Do you know what is a profession of a second type training, that is fast but accurate?
In fact, no. Tell me.
Well, it's yours. Journalists are trained to do things right and fast, because every day they have to finish their article within a certain time, after checking the sources and making sure that what they write is all fairly true. There are also other professions of this sort, such as those of hospital doctors, especially in the emergency room: they must be very careful too and they can't be skipped. Business leaders need to have this kind of attitude, and it is necessary to think about corporate configurations that allow them to interpret that mentality. Because in this way you fight the competition.